Braintrust needed to set up its Marketing Operations for two distinct yet equally crucial audiences.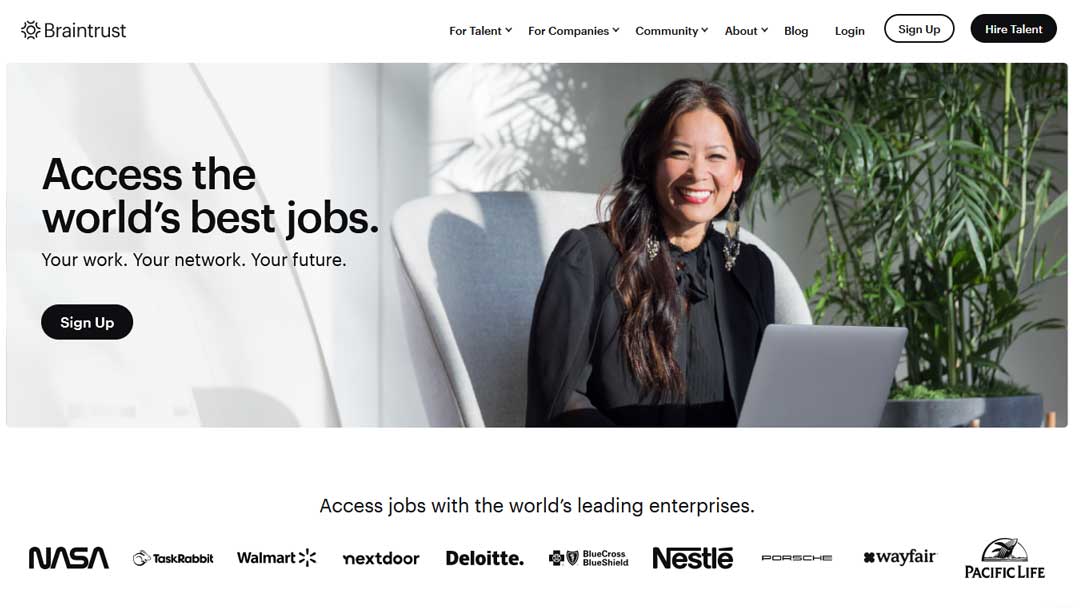 As a decentralized talent network, Braintrust relies on a selection of highly skilled freelance talent on one hand, and leading enterprises that require the talent's services on the other hand. While both groups are crucial to the business, their user journeys and marketing needs are very different. So how do you overcome this challenge from a marketing operations perspective? How do you structure your website, set up your marketing flows and configure your CRM to give both audiences exactly what they need? Let's take a peek below the hood.
"From easy things like copy changes to developing our entire website in the most seamless fashion, WX has helped our team elevate our marketing programs across the board. Simply put; WX is an essential extension of our team."
Brand Marketing Manager
Braintrust before the rebrand
WX has continued to support Braintrust for nearly three years now. Below are some key stages of that collaboration leading up to the Marketing Ops challenge that's the focus of this case study.
Early stages
The collaboration started in May 2020, when the Braintrust core team was less than ten people. WX worked directly with Co-founder Gabriel Luna-Ostaseski and acted as a sparring partner, providing strategic insights through growth experiments and data analysis.
Rebrand + Website design
By the end of 2020, Braintrust had managed to secure clients like NASA, Porsche and Nestlé. Their brand, however, didn't yet reflect this new reality of a maturing organization - it was very much still rooted in their startup beginnings.
The decision was quickly made to overhaul their brand and website, and WX was called upon to support this 4-month, $75,000 budget project. Our CEO Martijn acted as the Project Manager and the Development Team Lead, while our COO Melvin served as the Marketings Operations Expert.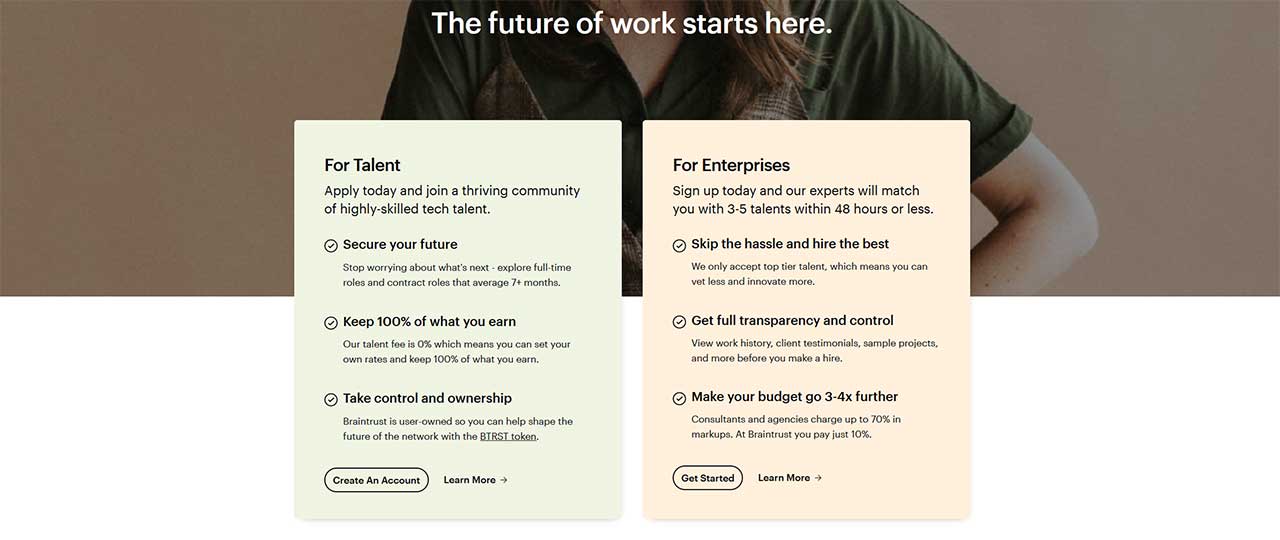 The intriguing aspect of this project is that almost every modification to the brand, and every choice to incorporate or exclude elements from the new site design, was based on data. The entire team thoroughly researched all available information to make the most informed decisions possible and ensure the best possible outcomes.
If you would like to read more details about the website redesign process, Braintrust has its own in-depth case study available.
Marketing Ops Solutions
After a successful rebrand and website relaunch in Q1 2021, Braintrust shifted its focus to scaling up its business. As a result, the internal team expanded and WX's role shifted to focus strongly on Marketing Operations. Below are some of the key areas where WX provided focused support.
HubSpot lifecycle stage configuration and management
One of the things we love about HubSpot's Marketing Hub is that it's so flexible and customizable. This allowed us to formulate a strategy for overcoming Braintrust's dual-audience challenge.
Initially, we tried a number of different options with similar lifecycle stage progression for both companies in talent. This didn't work as well as we wanted it to, so ultimately we went for a simpler yet highly effective option.
We set up a system that utilized a combination of custom contact properties, workflows, lead scoring, and third-party integrations (most notably Salesforce and ActiveCampaign) to effectively manage and segment the two distinct audiences.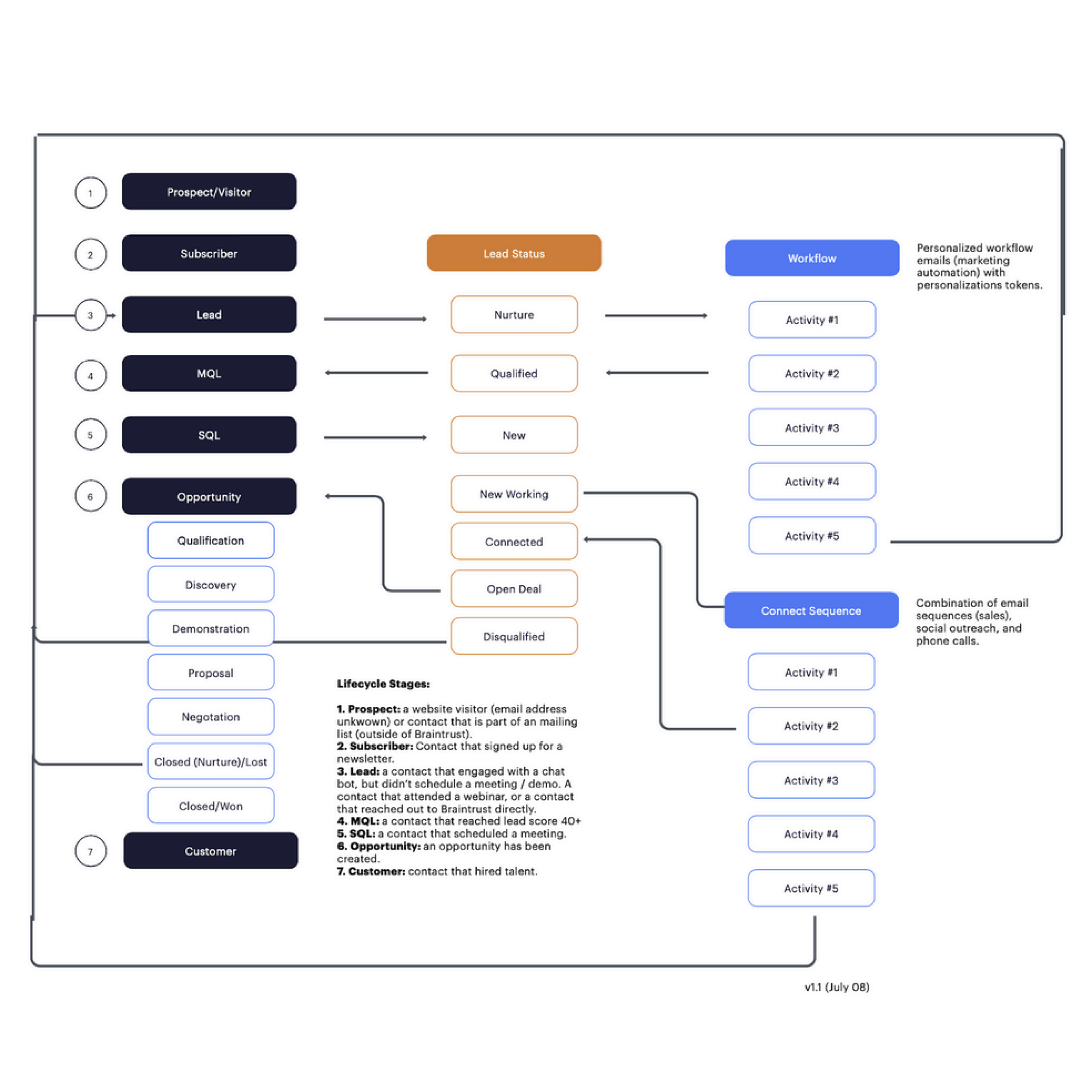 HubSpot Marketing Hub implementation
With both audiences being properly managed, we were ready to implement and A/B-test various marketing tactics. We leveraged HubSpot Marketing Hub's impressive toolbox to create some next-level setups:
Forms with dynamic and hidden fields.
Intent-based pop-ups for perfectly timed lead capture.
Audience-specific landing pages.
Smart content to change website content based on the paid ads campaign source.
We also helped Braintrust set up and define its email marketing efforts. This included automated confirmation and content delivery flows, newsletters for different audience segments, as well as nurture and drip campaigns with personalized messaging. We still test and track all email performance, with over 235 talent newsletter headlines A/B-tested since 2021.
Last but not least, we created custom reports and dashboards in HubSpot to make sure that all efforts were easily measured, analyzed, and optimized. This data-focused mindset has been a continuous driver for Braintrust's success over the years.
Chatbot creation and optimization
We built a sleek chatbot for Braintrust with a clear logical flow to guide both talent and companies towards desired actions.
Potential clients can book an exploratory meeting right from the chatbot after answering a few qualification questions. Freelancers wanting to join the network are automatically guided to community resources and can sign up for the newsletter right from the chatbot.
The flow remains highly effective as it has a double-digit percentage conversation rate for meeting bookings.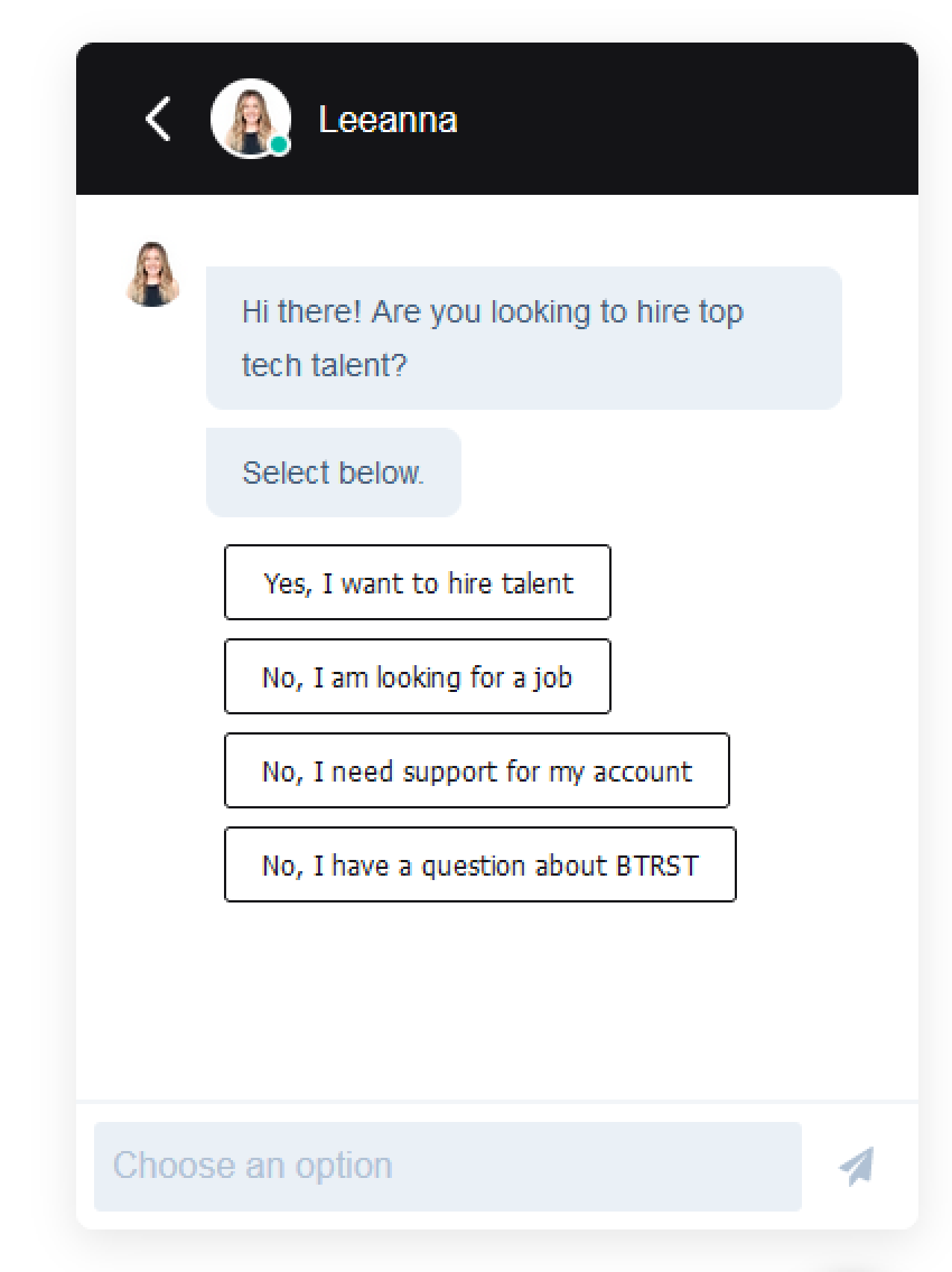 HubSpot Sales Hub implementation & Salesforce integration
Sales Hub offers a variety of excellent features to help set up your sales team for success. For Braintrust, we began by configuring and personalizing the Meetings tool for each salesperson. We then created round-robin scheduler pages, which allowed for both high efficiency and a fair allotment of inbound leads.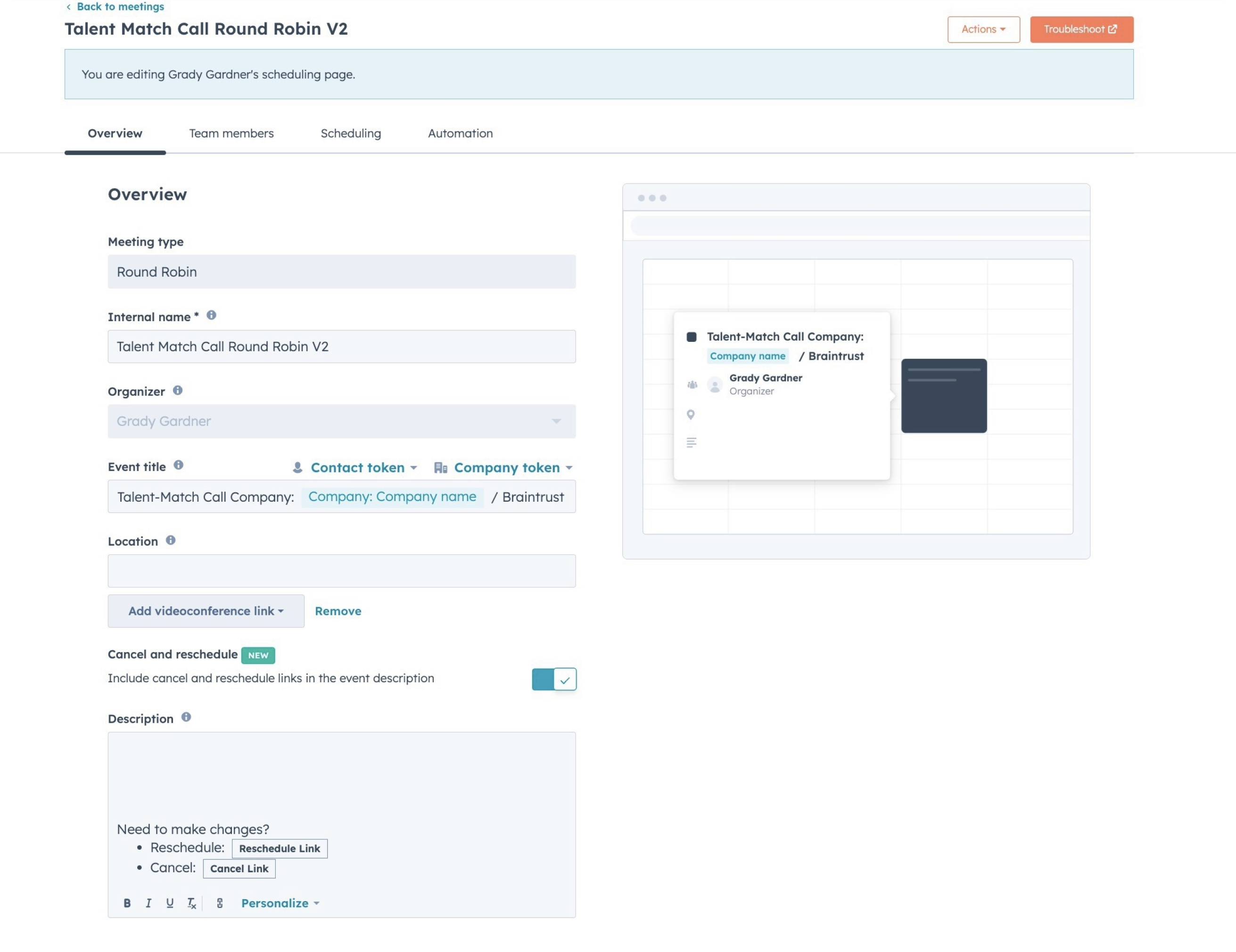 We also set up a HubSpot integration with Slack. This integration allowed us to automatically send notifications to a designated Slack channel whenever a new MQL or SQL was generated. These notifications included information such as the lead's name, company, and contact information, giving the sales team the information they needed to act quickly and follow up with leads.
Salesforce integration
Companies often use Salesforce and HubSpot together because they complement each other's strengths and provide an unparalleled view of customer data. While a native HubSpot+Salesforce integration is available, its functionality is not sufficient for companies with unique business requirements - like Braintrust and their dual audience. Through a number of key initiatives, we helped Braintrust gain an accurate end-to-end picture of its commercial funnels.
Data hygiene
Read more
Streamline data tracking and reporting
Read more
Custom lead source setup and mapping
Read more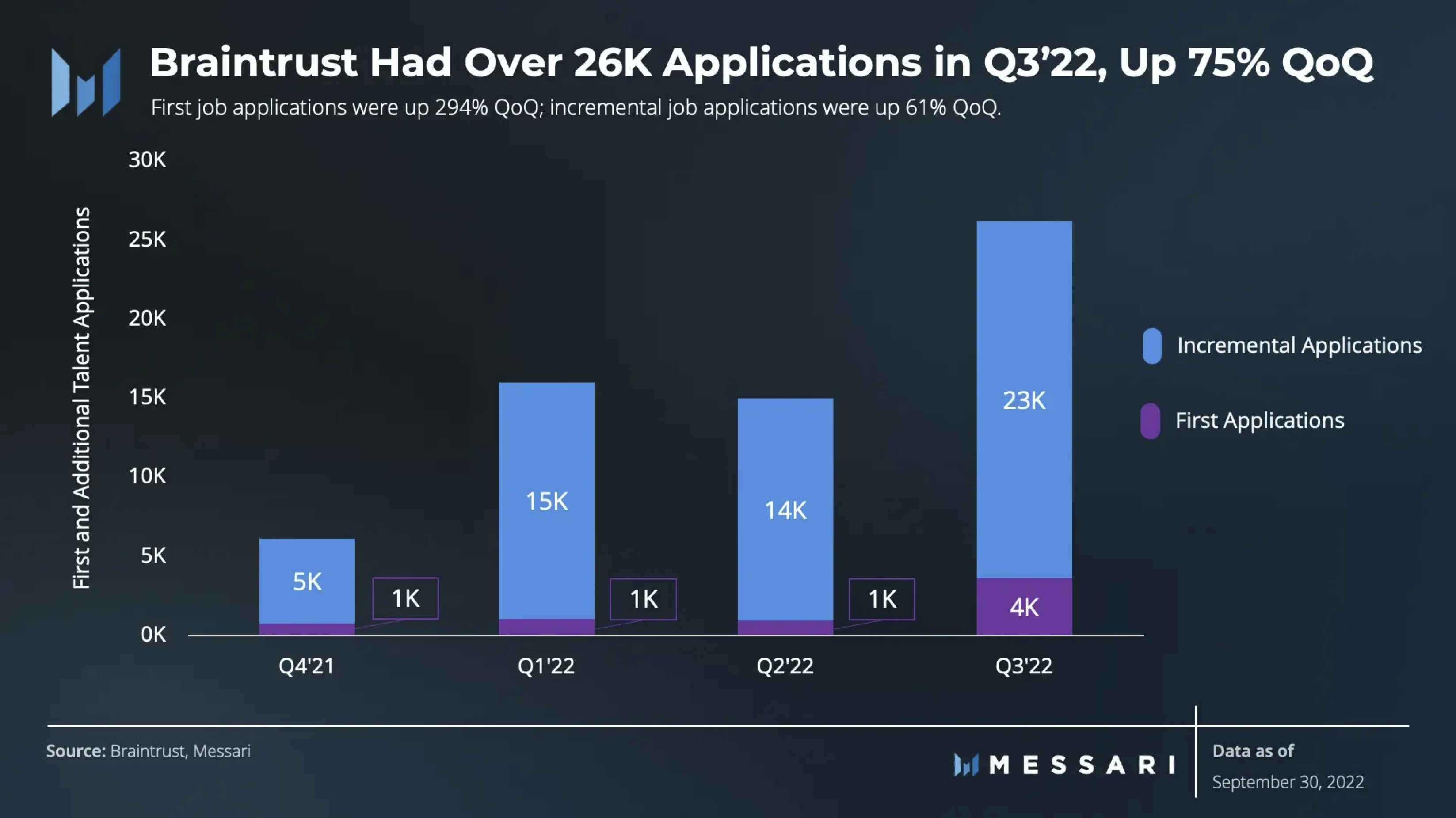 Applications surged in Q3'22 to 23,000, up 75% compared to the same quarter in 2021. First applications quadrupled compared to the previous quarter.