What Is HubSpot? 10 Amazing HubSpot Benefits for Company Growth
Written by
WX Digital Agency
7 minutes reading time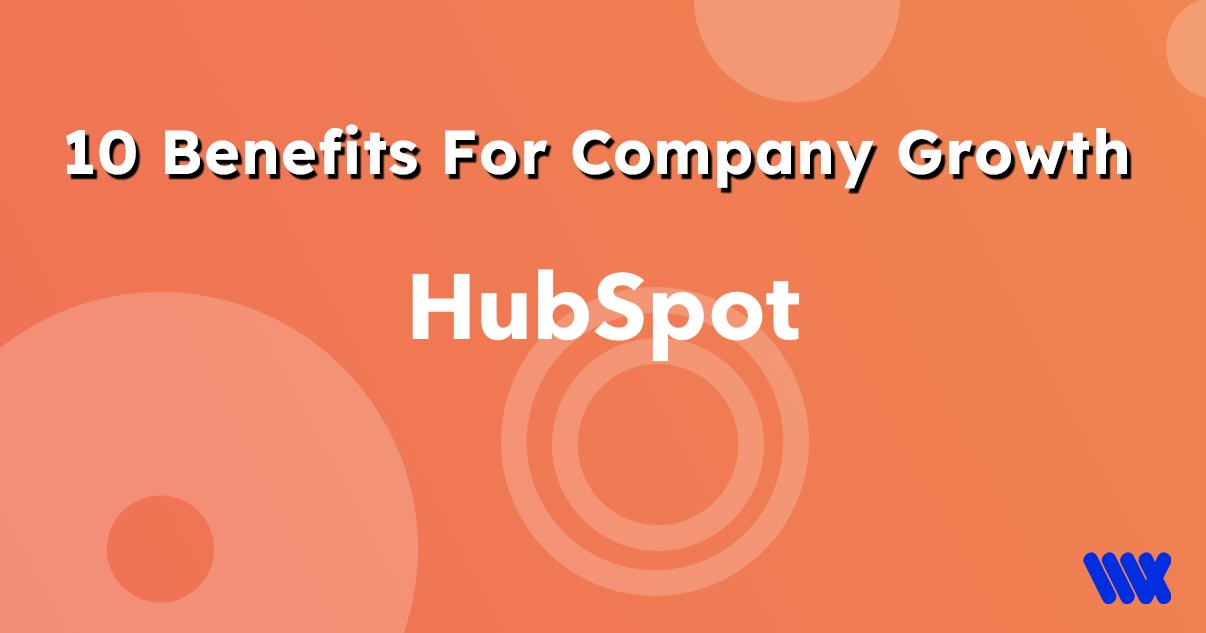 HubSpot is the single best marketing platform, no questions asked. It's not even close. But why is that?
In this article, you'll learn about 10 of the benefits that make HubSpot the best software to help a business grow and make the life of a marketer so much easier.
At WX, we've been living and breathing HubSpot for 8+ years. And we noticed that many marketing professionals and business owners know about HubSpot, but not how it actually works. So, let's dive in.

What is HubSpot?
HubSpot is an all-in-one marketing, sales, and customer service platform. It covers the entire customer lifecycle throughout interactions with all these departments, storing the data in one powerful, integrated database. This way, it maintains an end-to-end record of all touchpoints.

From the initial contact with a new prospect, all the way through the closing stage and customer support to finally reach that highest high of customer lifetime value: brand ambassador.
But it's about much more than just the record. HubSpot does this because it drives growth for your business through the Inbound methodology. Inbound is a method of attracting, engaging, and delighting customers by constantly creating and giving value and building trust.

You see, in today's marketing landscape, tacky commercials, cold calling, and impersonal emails are a thing of the past. The internet has caused an enormous change in customer behavior, and as a result, changed the way brands must approach them. Providing value at all times is the name of the game. And to win that game, all your customer-facing departments need to be in complete sync.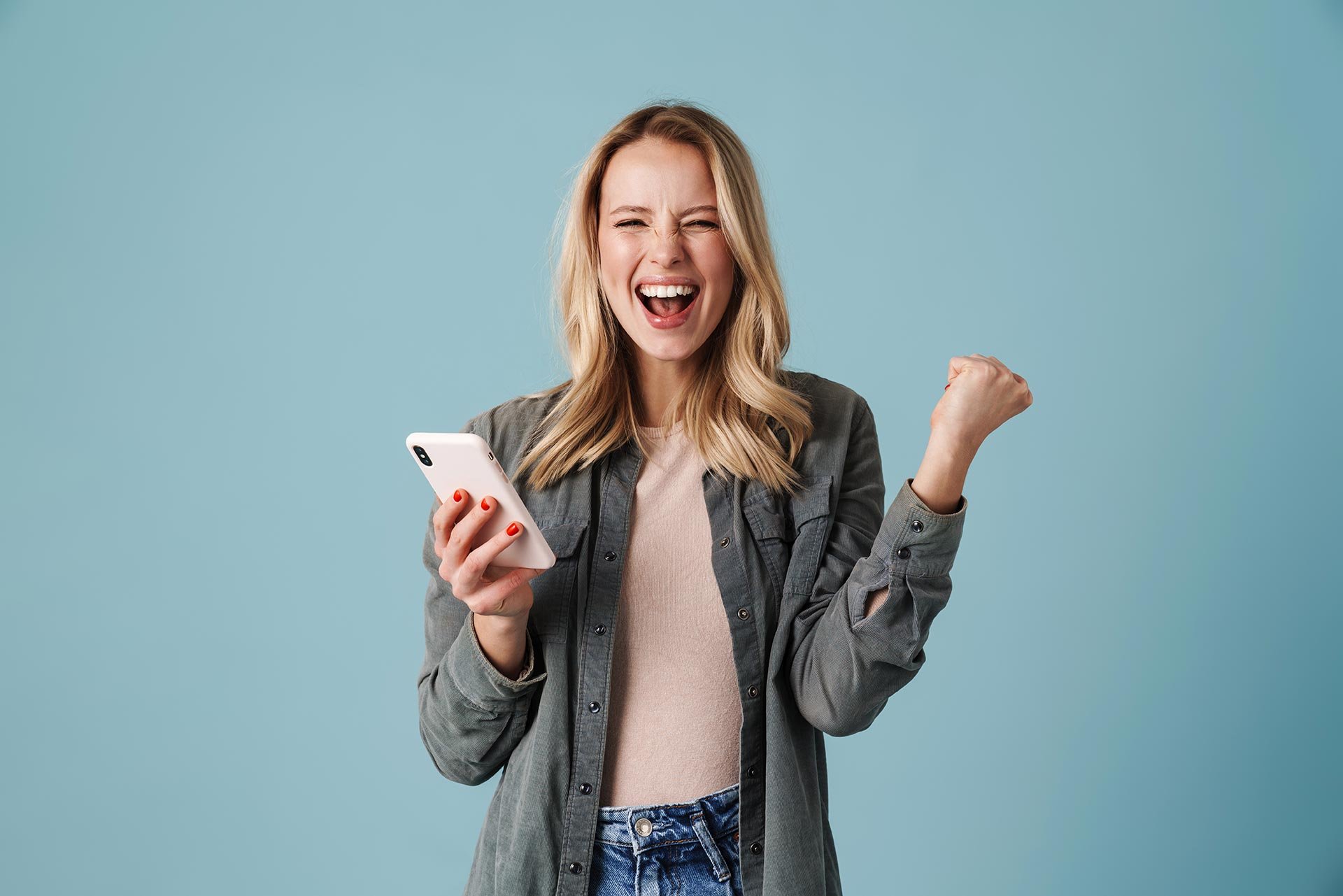 Let's compare HubSpot to a smartphone. A smartphone makes everything so much easier, and lets you do almost everything with one tool, including maintaining your personal relationships.

It's the same thing with HubSpot. It's the ultimate package and the smartphone of marketing. A single platform that gives you all the marketing, sales, and service tools to generate leads, accelerate sales, and keep your customers happy.
Just like remembering life before smartphones is hard, using HubSpot for a while will leave you wondering how you ever lived without it.

10 Benefits of HubSpot
HubSpot is a complete marketing software platform, and it's everything you'll need to conduct successful campaigns. It is ideal for all types of businesses from startups to enterprises. No wonder it's repeatedly been voted as the "Best Web CMS" and "Best Result for Enterprise Customers" on industry-leading review platform G2.
Among the many benefits that HubSpot brings, here's a list of the 10 most useful ones:
1. All-in-One Marketing Solution

One of the constant struggles in marketing is managing your marketing technology stack― the complex heap of platforms and tools required to keep up in today's digital marketing landscape.
Marketing covers many disciplines, and the more of them your marketing team practices, the more tools you'll need to keep everything aligned. You will need a content management system (CMS), automation tools, analytics software, customer relationship management (CRM) software, an email marketing platform, and so forth.
HubSpot provides a simple solution that makes marketing a lot easier by combining all the tools that you need in one platform. It's all powered by the same database, and it acts as your command and control center so that all the work done in your organization is centralized.
To learn more about how HubSpot can simplify things, here's a list of software programs that HubSpot can replace entirely:
CRM

Live Chat, Customer Support and Social Media

Website Development and Search Engine Optimization (SEO)

Email Marketing and Marketing Automation

Integration, Data Syncing, and Analytics

Salesforce

PipeDrive

MS Dynamics

Insightly

Unbounce

Lead Pages

Zendesk

Freshdesk

Live Chat

Hootsuite

Tweet Deck

WordPress

Wix

Squarespace

Webflow

SEO Profiler

WebCEO

ActiveCampaign

MailChimp

Marketo

Infusionsoft

Constant Contact

Integromat

Google Analytics

Lead Forensics
Advantages of an All-in-One Tool
Having an all-in-one tool like HubSpot has 3 major advantages:
More effective marketing and customer experience – centralizing all the marketing elements allows for a smoother handover between teams. You can easily see the full picture and track the entire journey of your clients. This not only creates a delightful experience for your clients but also lets you know how marketing efforts are impacting revenue.


Efficiency – it's quicker and a lot more efficient to manage everything in one place rather than accessing different programs and managing multiple passwords. It also saves you effort from learning and getting used to different tools and user interfaces.


Intelligent marketing – since everything is linked to one another, it's easier to personalize the experience of HubSpot users in your organization. Pages, emails, calls to action, and the other elements automatically adjust as HubSpot learns more about its users.
2. User-Friendly and Intuitive Interface
Let's go back to our original example. You buy yourself a new smartphone. It has warp-speed processing, a long-lasting battery, a crystal-clear display, and the most advanced features. But you have to go through so many buttons and windows before you can even change your font size. Surely, you'll return that phone the very next day.
Similarly, many CRMs struggle to balance power, automation, and ease of use. HubSpot, on the other hand, does not sacrifice intuitiveness for the sake of power. Even though it has hundreds of available features, everything is readily accessible and very easy to use. This gives it a lot of advantage over its competitors.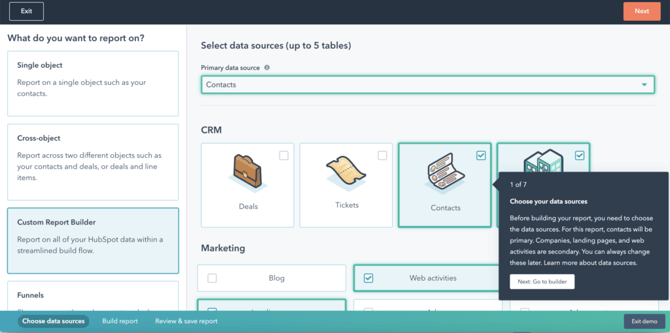 According to a Gartner survey, around 50-70% of all CRM projects result in losses due to the expectation that the system or tool they use directs their content and strategy for marketing, sales, and service. While it is your team—not the system or tool—that drives the execution of your strategy, having an intuitive system that can easily be managed is a real trump card.
3. No-Code Platform
HubSpot's no-code platform is the perfect solution for marketers with a great imagination but limited tech skills. It has many features like drag-and-drop page editing, tools for styling, and optimization wizards that don't require a developer.
Yes, developers create the foundation of your site. They build modules, assets, templates or maybe use elements from the HubSpot Marketplace and redesign them. But once your site is live and ready, these devs typically like to keep it that way. Marketers, on the other hand, need to constantly make changes to keep up with trends or customer demands. However, we really don't want marketers and developers jumping down each other's throats now, do we?
This is why HubSpot's no-code platform is so popular. It makes organizations more flexible, and it gives marketers good control over the content of a website without having to get development teams involved all the time. Compared to a more traditional CMS, this increases productivity and gives marketers the freedom and flexibility to produce content, bring in more leads, and work their magic.
4. HubSpot Marketplace
The HubSpot Marketplace is where HubSpot keeps thousands of pre-made templates and modules and app integrations that help users create their unique website in the HubSpot CMS.
HubSpot regularly updates its marketplace and the current version offers a lot of different options. It is easy to navigate, and you can choose the template and modules that best fit your needs.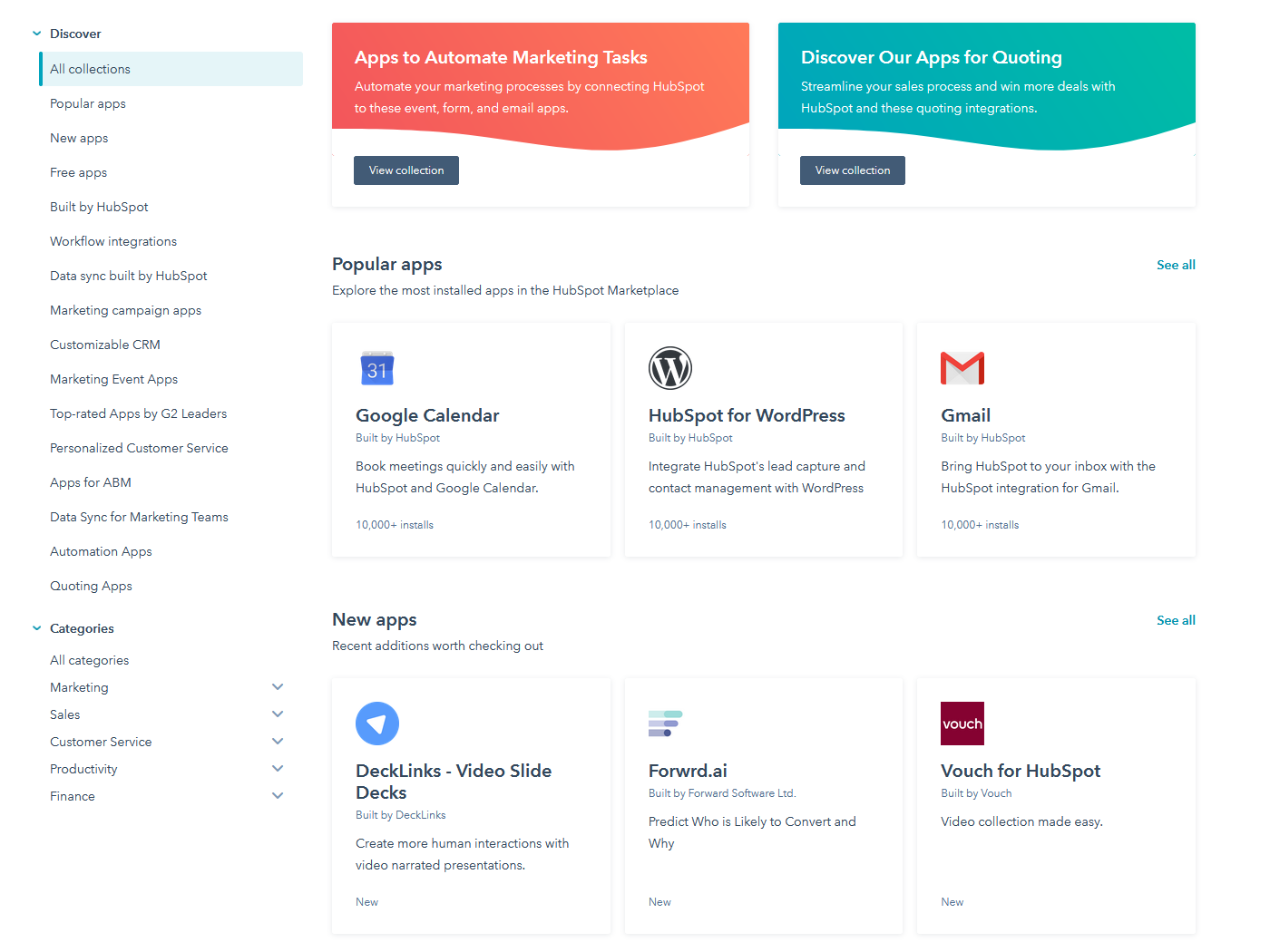 5. Customizable Objects
HubSpot offers an extensive list of objects that represent the processes and relationships in your business. You can use these objects to manage CRM data based on your goals and requirements.
There are 4 standard CRM objects: contacts, companies, deals, and tickets. However, these pre-established CRM objects may not be enough for your needs. Forcing data into them may result in errors or cause you to miss important analysis and insights that would help you make informed decisions.
Fortunately, HubSpot added a feature wherein you can define a custom object based on your requirements, create custom properties, and customize the associations between the object you created and other available objects. This feature was a game-changer and one of the reasons that catapulted HubSpot as the top CRM in the industry.
6. Customer Support
Another major benefit is the support you get through different avenues: chat, email, knowledge base, phone, and community. This would depend on the type of package that you'll subscribe to.
The HubSpot Knowledge Base contains everything there is to know about HubSpot. But in case you need more explanation or help for specific problems, it is very easy to get a hold of a HubSpot agent through their chat, email, and phone support.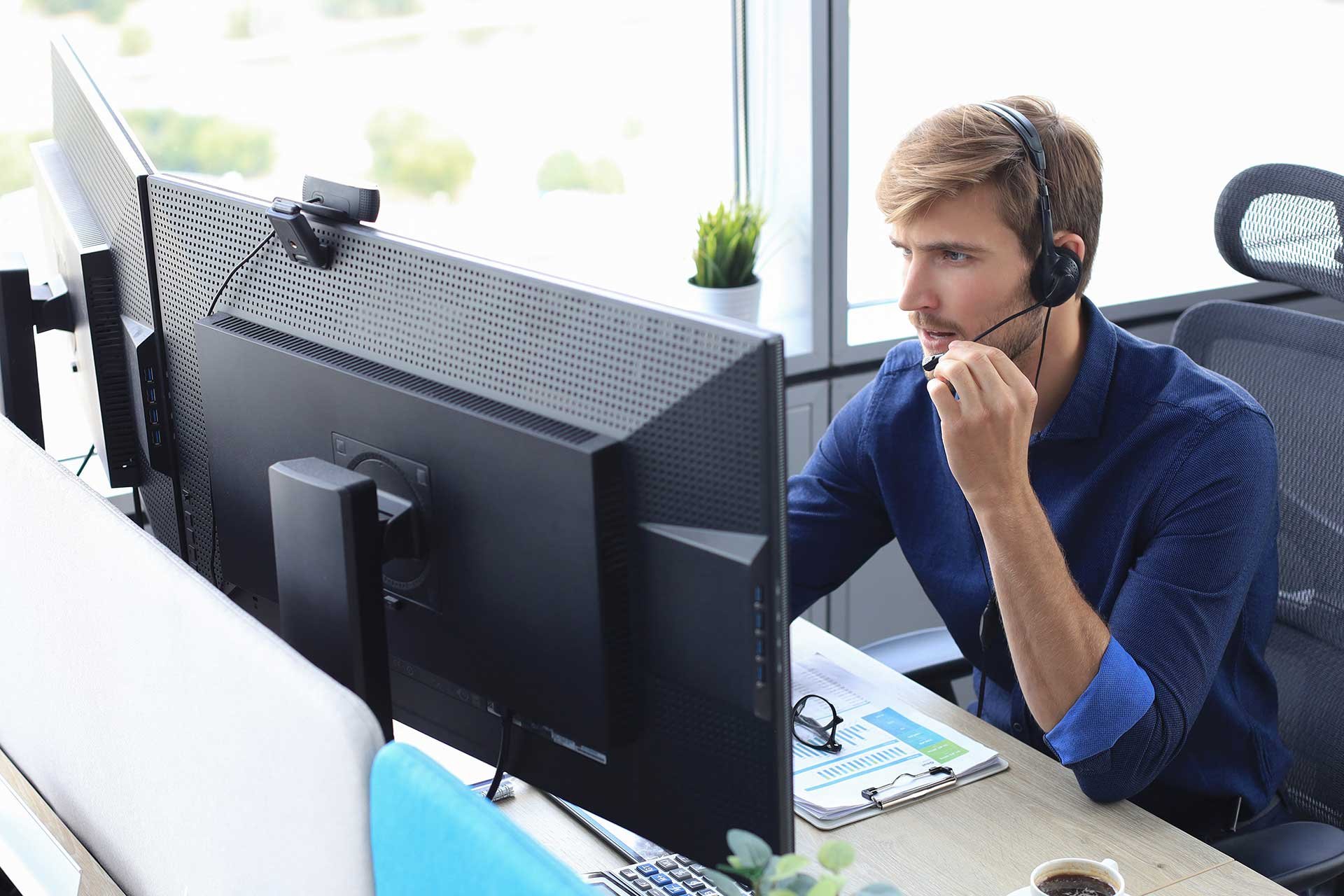 In addition, you can connect with other professionals and peers through the HubSpot Community. You can view the problems encountered by others and ask about your own, or simply share experiences and added information.
Through all these, there's continuous learning and knowledge sharing that lets you get the most out of HubSpot's products and features.
7. Social Media Scheduling and Monitoring
Social media is a vital part of any marketing strategy. However, it needs continuous monitoring and consistent communication, posting, and engagement to be truly effective. With HubSpot, no need to stress out.
HubSpot offers a great scheduling system and monitoring tools that help you prioritize your social interactions. This way, you can publish your social network content from the same place where you manage your campaigns. What's more, HubSpot's campaign feature makes it easy to measure the impact of your social efforts.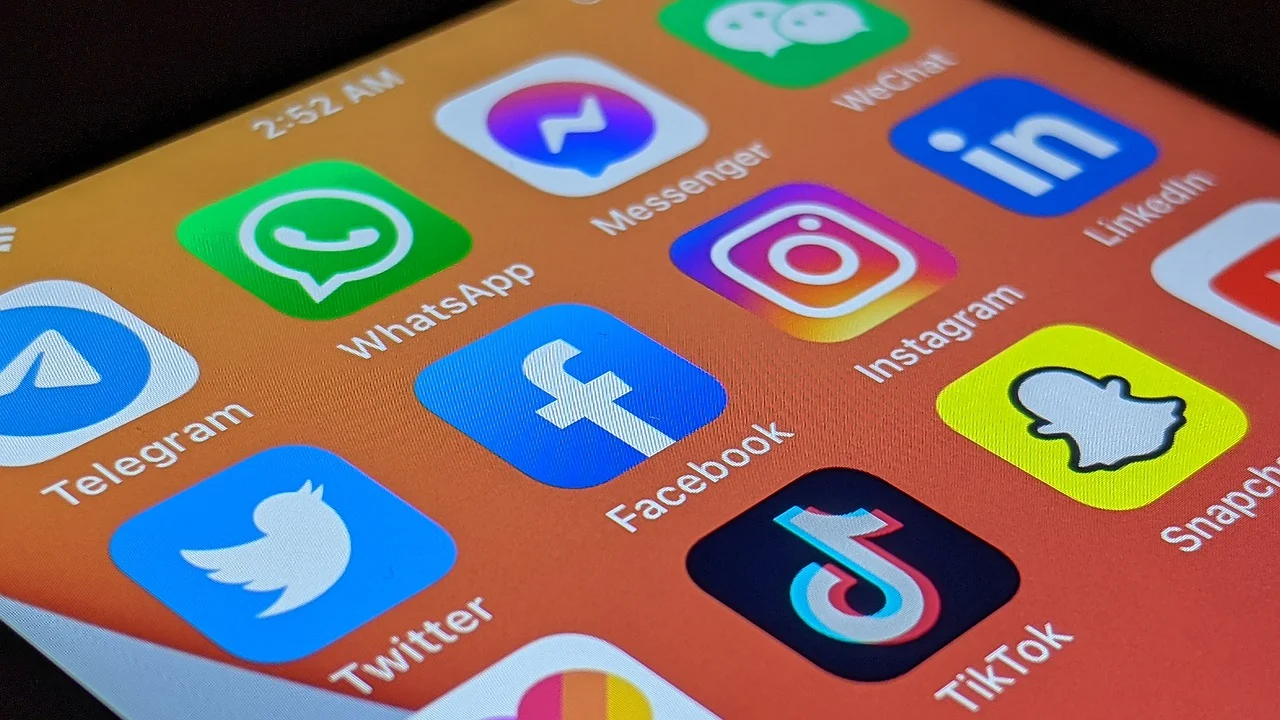 8. Integrations
A HubSpot CRM integration is a connection between the HubSpot CRM and a third-party app. This can either be those that are built and supported by HubSpot, or those that are built and supported by HubSpot Connect Partners.
Since HubSpot's goal is to help businesses market their goods and services without unnecessary roadblocks, its ability to integrate with a vast number of applications plays a huge part in providing the needed tools and resources to achieve this goal. These integrations cover categories such as customer service, productivity, finance, marketing, and sales, and are made to enhance your CRM or refine your CMS.
Here are some examples of the top tools (among thousands) that you can integrate with HubSpot:
| | | | |
| --- | --- | --- | --- |
| Beacon | Google Search Console | Proposify | TrenDemon |
| Bitly | GotoWebinar | ReadyTalk | TwentyThree |
| CallRail | Gravity Forms | SalesForce | Typeform |
| Databox | HotJar | Salesforce | Unbounce |
| Drift | Insycle | SeventhSense | Vidyard |
| EventBrite | LinkedIn Sales Navigator | Shopify | Wistia |
| Facebook Ads | Lucky Orange | Sigstr | WordPress |
| Facebook Messenger | Neverbounce | Slack | Zapier |
| Gmail | PandaDoc | SurveyMonkey | Zoom |
9. Analytics
If you're not measuring, you're not doing your marketing right. The marketing department is typically the first to get blamed if things go wrong, and the last to get credit for their achievements. If you look back, this is understandable. For the longest time, it was near impossible to measure and prove return on investment for marketing efforts. No more.

Today, you can get accurate insights into your (marketing) data without too much trouble. In fact, measuring and analyzing is more important than ever. Not only does it help you demonstrate the impact of your campaigns―it actually helps you make correct decisions.
HubSpot facilitates all data collection, visualization, and analysis through their integrated approach. You can easily track the complete lifecycle of your customers, measure and monitor the quantity and quality of your website traffic, and get detailed, highly customizable reports on all your marketing, sales, and customer support efforts.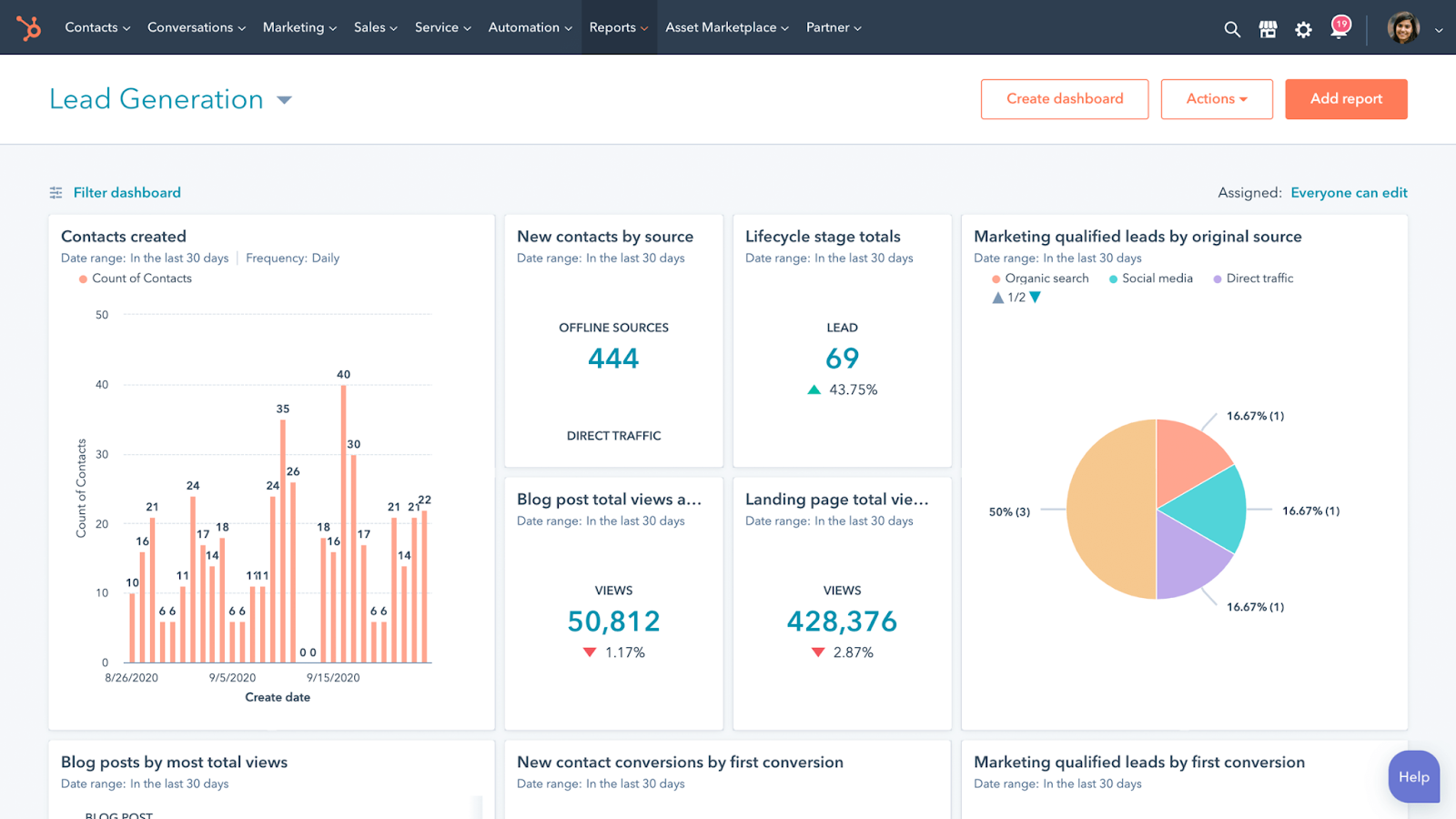 This single source of truth for all of your client-facing business departments is a real game-changer. Everyone is looking at the same numbers, which makes it simple to determine what is going right and what could use some work.
10. Vast Partner Network
HubSpot users can easily find the right implementation partners through the Solutions Partner Program. These partners include agencies, freelancers, and other suppliers offering their expert services. Suppliers are easily browsable through an organized database that shows:
Areas of expertise and accreditations
HubSpot partner level
Country
Industry
Language(s)
Budget
Although HubSpot was built so that almost anybody can use it, those who want to make the most of their digital assets tend to hire partner agencies to help. These partner agencies supply the services you need—marketing, sales, customer service, web design, CRM, IT—to help your business grow. Some can even build custom solutions that are uniquely suited to your needs.

Better yet, these partners commit themselves to keeping up with the latest trends, techniques, and tools that are regularly shared by HubSpot with this dedicated community. This way, you can be sure that your chosen HubSpot implementation partner is operating at the cutting edge of the industry.

Conclusion
HubSpot is the single best, all-in-one, software platform for all client-facing departments of your business. That much should be crystal clear right now. You also know that you can maximize its potential by collaborating with an agency partner to create unique solutions that are perfectly matched to your brand and needs.
Even knowing all this―getting started can be scary. Good news: it doesn't have to be. Just shoot us a message, and we'll determine the quickest path to more success for your business, together.