In just 7 days, you can build a brand new website from the ground up with TalantOn.
Written by
WX Digital Agency
3 minutes reading time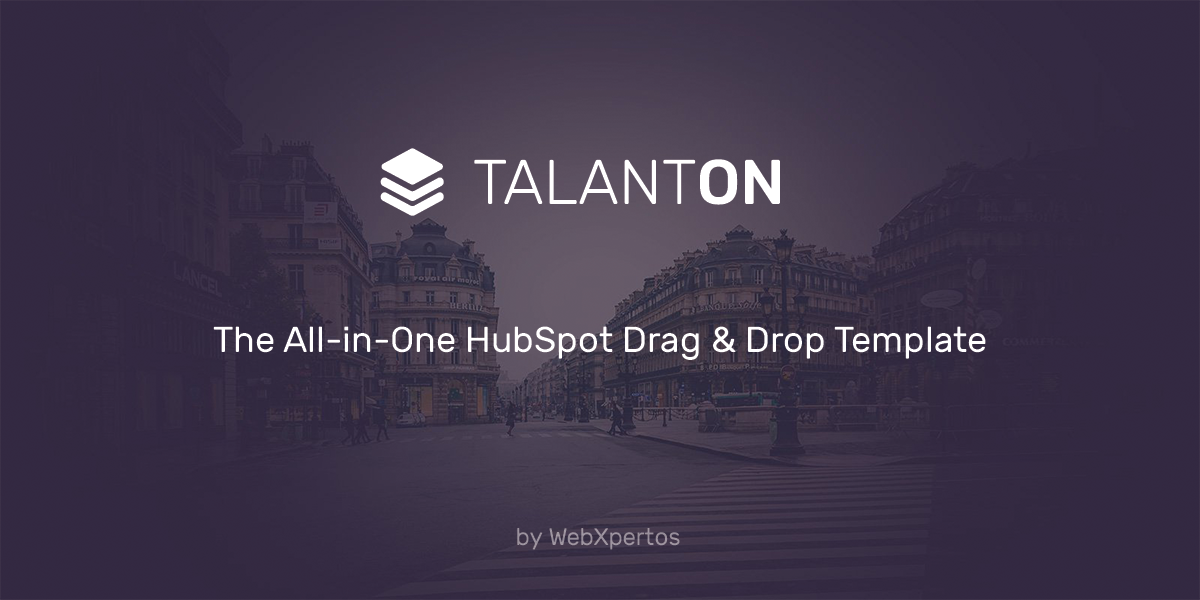 TalantOn is a fast an easy to use template, specifically built for the HubSpot CMS. The TalantOn template contains a full drag and drop interface, which means you can literally create your website piece by piece, with the modular ease of a LEGO set.

Before buying any template, we highly suggest you read our Strategy For an Optimized Website Redesign Process. This guide should help you to really determine which template fits your company's needs, and the best strategy for implementing the process in a way that works for you.
By choosing TalantOn, you are making the critical decision to create your brand new website headache free, with a wide variety of customization possibilities so your website maximizes your brand identity. Congratulations!
Now, let's get ready to develop / redesign your website within the next seven days!*
Day 01: Website Framework
Deciding which pages and elements you want to include into your new website is essential. If you haven't decided what pages and elements you want to show previous to your purchase, now is the time. Get a piece of paper, pick up your sharpie, and start sketching. Make sure to structure by which pages and elements you would like to show specifically. For example: About Us → Team Photos.
Day 02: Select & Collect
Once you have determined the framework for your new website, it's time to select & collect the website pages. We have already built a showcase of the pre-developed TalantOn pages, so all you need to do is check it, and select it. View and determine which website pages suit your companies needs. It's that simple.
Day 03: Copy as the foundation
One of the foundations for a well-structured website is a well-thought out copy structure. This is why we have developed a copy structure for literally every website page within TalantOn which can be found in this document. Optimize your copy for the website, add it to the document, let a copywriter/proofreader check it, and then make this the master document for your website copy.
Day 04: Visual Consistency
Visual elements are an additional key pillar to a structured website. The human sight is the fastest sense (as quick as a computer network). This means that people unconsciously adapt a massive load of information through visuals. Knowing this, you can adjust your content to maximize this opportunity (read more here). The TalantOn template functions as your visual outline (or wireframe). Use UnSplash or Pexels to gather high-resolution stock photos for your website. Use Pexels Videos for high-resolution stock videos to support the written content on your website.
Day 05: HubSpot Website Set-up
Once you have your website pages selected, strong outlined copy, and your visual elements, it's time to start working within the HubSpot platform (yay!). To implement copy in a structured way, we suggest creating all website pages within your HubSpot portal up front. Also, it's important to connect these pages in the menu and update the global header and footer. The global header and footer of TalantOn includes the logo, menu, and social links. Check out this quick video to get you started.
Day 06: Copy Implementation
Once you have all your website pages ready within your HubSpot portal it is time to add your copy and visuals. Simply select a page, update the copy within the modules and save the page. I strongly suggest to implement copy page per page, to keep structure and a clear overview of what has been applied.
Day 07: Publish & Test
Once you have implemented all your copy it is time to publish your website. Before making the big announcement, make sure to test the pages to see if they work in conjunction with each other, together with your team. Ask for feedback, and discover any glitches and/or bugs you see along the way. Once you are confident that all this is set, it's time to launch! Please note that it would be good to have one of your team members dedicated to optimizing the website in the first two weeks based on feedback from your website users (Tip: Use Hotjar).
Building a structured and well-designed website takes time and effort. TalantOn contains over 50 different modules and a wide variety of possibilities in design and functionality. We are always ready to help you set-up the template: the first 2 hours of customizations are always free with your purchase.
If you have any questions or inquiries, feel free to write me a message.
Take a sneak peek of our upcoming template for the HubSpot Marketplace here.