The Benefits and Challenges of Integrating HubSpot with Shopify
Written by
Teresa Scavotto
4 minutes reading time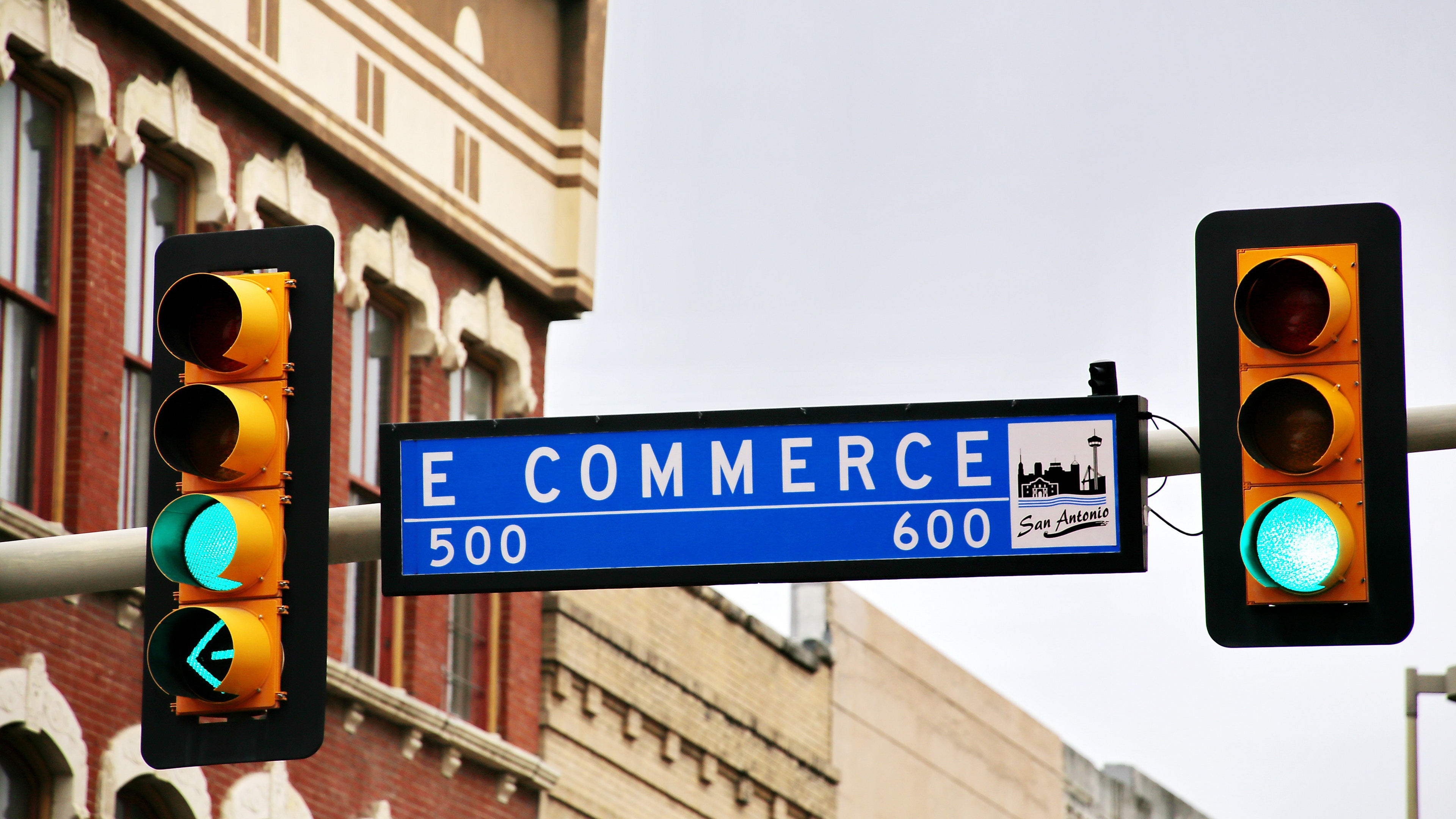 The combination of Shopify and HubSpot creates a perfect synergy for e-commerce.

This piece highlights the advantages of a cross-platform data connection and presents an uncomplicated solution: the Shopify HubSpot Integration.
The Shopify and HubSpot Integration Potential
Shopify and HubSpot integration provides new opportunities for online stores. The result is a powerful solution that enables online stores to enhance their marketing, sales, and customer management processes.
By integrating, organizations can:
Reach more customers
Personalize experiences
Enhance conversions
Improve customer satisfaction
We'll cover the fundamentals of this powerful integration and discuss its pros and cons. By the end, you'll have a better understanding of how Shopify and HubSpot can work together to streamline your operations and help you achieve your business goals.
What is Shopify Plus?
Shopify Plus is an enterprise-level ecommerce platform designed for high-growth businesses.
By integrating HubSpot with Shopify, Shopify Plus users can enjoy the advanced features of both platforms. This includes access to a vast selection of marketing automation tools and a more complete customer data set.
With this integration, businesses can develop personalized marketing campaigns that provide shoppers with tailored shopping experiences, which in turn boosts customer satisfaction and conversion rates.
Is Shopify HubSpot Integration Right for Your Online Retail Business?
Integrating these two platforms provides numerous benefits, including access to detailed analytics, monitoring of customer interactions, and messaging capabilities on multiple channels, including email, direct mail, phone, chat, and text messages.
Retrieving customer information with HubL templates is easy, allowing you to access crucial details like a customer's name, address, and phone number to populate confirmation emails and other tasks.
HubSpot workflows provide conditional logic capabilities, enabling you to execute more advanced tasks using custom HubL and third-party apps like the data layer.
To fully leverage the potential of HubSpot, we recommend taking some basic training courses. HubSpot provides free training courses on their website, which you and your team can take to enhance your skills and gain familiarity with the platform's terminology and fundamental features.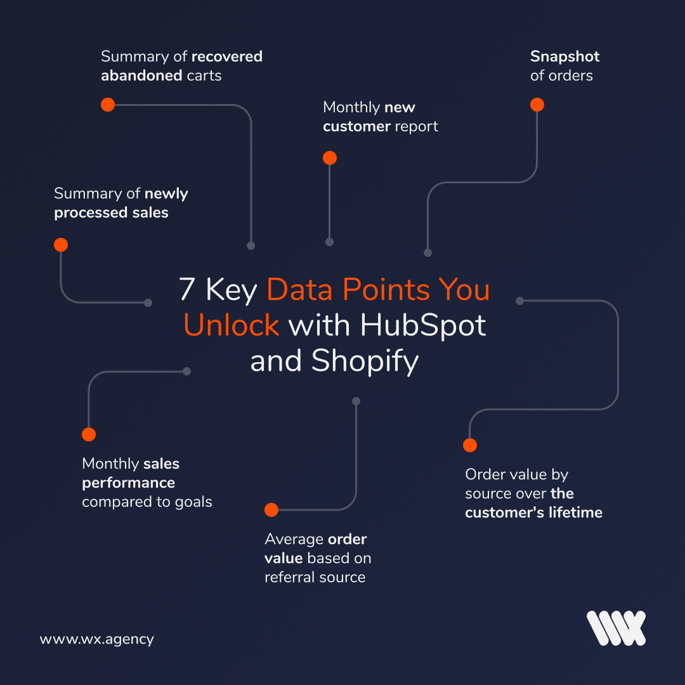 Shopify HubSpot Marketing: How to Drive More Traffic and Sales
One of the numerous advantages of integrating HubSpot with Shopify is the ability to create and manage robust marketing strategies. Previously, marketers had to rely on unreliable spreadsheets and scattered data sources to monitor their campaigns. However, with this integration, those days are over.
You can review all of the valuable customer data and insights that help you make informed decisions – in one place.
Access to valuable customer data and insights allows you to:
Develop targeted marketing campaigns that resonate with your audience
Segment your contacts based on buying behavior, demographics, or preferences
Create personalized email campaigns, social media posts, or even direct mail pieces to engage with them.
An example of valuable data you can access is the average order value based on referral source. By analyzing this data, you can identify which sources are driving high-value customers and allocate marketing resources to the most effective channels accordingly.
Contacts and Sales Management Workflows within HubSpot's Platform
Syncing your Shopify order data with your HubSpot account has several benefits.
According to Nomalys the average CRM can:
Increase sales by up to 29%
Improve productivity by up to 34%
Boost forecast accuracy by 40%
By automating workflows for order management and customer follow-ups, and capitalizing on upselling or cross-selling opportunities, businesses can enjoy better customer relationships and increased revenue over time.
This method of streamlining sales processes can also enhance customer interactions and deliver even more value to customers.
Customer Insights and Lead Generation Tactics
By tracking page visits, product interactions, and time spent on each page, HubSpot helps businesses gain a deeper understanding of customer interests and preferences. This information can be used to create targeted marketing campaigns, enhance product offerings, and boost conversions.
With HubSpot's accurate and up-to-date reporting tools, optimizing website design and user experience is made easy. By tracking metrics such as time spent on each page and other website interaction data, businesses can gain valuable insights into what works and replicate those elements to create web pages that drive conversions.
While traffic is important, converting visitors into potential customers is critical. Lead generation involves using various tactics to accomplish this goal, and with HubSpot, creating engaging and click-worthy calls-to-action (CTAs) is a breeze. With the ability to track page views, form submissions, and clicks in one place, you can make informed decisions on what offers work best for your business on the fly.
How Businesses Can Use This Integration to Improve Operations and Streamline Ecommerce Processes
By integrating HubSpot and Shopify, businesses can significantly improve their operations and streamline their ecommerce processes. Here are some tips for those considering implementing this integration into their own business operations:
Utilize HubSpot's free training to familiarize yourself and your team with the platform.
Personalize product recommendations based on customer behavior.
Automate order management, customer follow-ups, and upselling, saving your business time.
Use customer insights to improve offerings and launch new product offerings.
Monitor and analyze the effectiveness of your marketing efforts, making data-driven decisions to maximize your ROI.
Challenges of Integrating HubSpot with Shopify
While the benefits of integrating HubSpot and Shopify are significant, there are a few challenges to consider:
Setup and Implementation: Setting up the integration can be complex, especially for those who are not familiar with the HubSpot and Shopify platforms. You may need to hire a developer or work with an agency to get everything up and running correctly.
Cost: Depending on your business size and needs, the cost of using both platforms can add up quickly. HubSpot offers a free CRM, but many advanced features and add-ons come with a price. Similarly, Shopify Plus may be too expensive for small businesses. It's essential to weigh the benefits against the costs before committing to the integration.
Compatibility: While the integration works well for most businesses, there may be specific features or workflows that are not fully compatible between the two platforms. In such cases, businesses may need to find workarounds or seek alternative solutions.
Learning Curve: As with any new platform or integration, there is a learning curve involved. Business owners and their teams may need to invest time in training and familiarizing themselves with the features and functionalities of both platforms to make the most of the integration.
Businesses often face the challenge of keeping track of customer data across multiple platforms, but HubSpot and Shopify integration makes it easy. That's why over 158,000 businesses in 120 countries choose HubSpot to streamline their online operations. Leverage the HubSpot-Shopify synergy to create highly targeted marketing strategies that drive growth and success in your online business.