6 examples of effective Landing and Thank you pages
Written by
WX Digital Agency
5 minutes reading time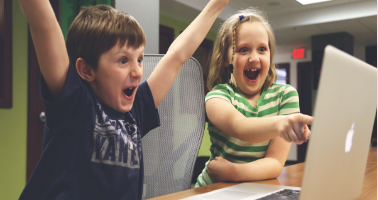 How can you recognize a useful and effective landing and thank you page? That's a good question, since there multiple ways to optimize your landing and thank you page. There are certain elements that need to be present on the pages to make it effective. If you haven't already read our article about how to make your landing and thank you page more effective, you can check it here. When your pages contain all of these elements as described in our previous article, I can tell you that you're already on the right track! Are you looking for inspiration and new ideas for your landing and thank you pages? Well, I can tell you that you're at the right place here.
Landing pages:
The first example is from a company called Isilon systems. Isilon is a company which provides a network-attached storage platform for high-volume storage, backup and archiving of unstructured data. Even though this Landing page may be from 2010 and the design is somewhat outdated, it's framework is still very effective! Let's start with the title. It's an original title, and it grabs your attention, the company found a funny and clever way to share their value proposition. If you look at the form, you can see it's not too long nor too short. It also has a drop-down menu, where the visitor needs to fill in their country name. It's better to use a drop-down menu for countries because you can refer to countries in many different ways. Take for example the USA, one might say USA but someone else could say 'the US', 'The United States of America' or even 'The States'. If you look at the left side, you can see the company used bullet points, This way the landing page is easy to scan for the reader.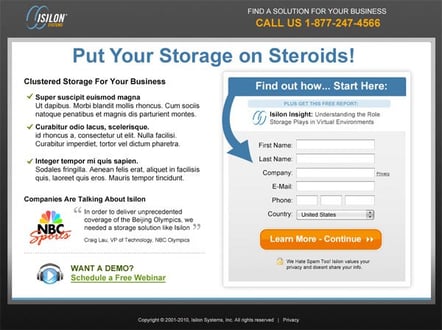 This is a landing page from Broda Photography, as you can see not only big companies use landing pages but also individuals / small companies. Broda is a Canadian photographer who has a great landing page as you can see. To start off, he excluded the navigation menu from the landing page so that the visitor primarily focuses on the form. In addition to that, he made use of a testimonial; this can motivate the visitor to fill in the form because he/she can actually read about another client's' experience. This is a great way to win trust
At the bottom of the page, you can also see an about me section so that the visitor knows who he/she will deal with. He also added a picture of himself next to it to gain the visitors trust. Broda also used a picture on the background which is related to the services he provides. Finally, you can see he doesn't have a long form which will motivate the visitor, even more, to fill it out.
The only way this landing page could be improved would be to be more specific about the follow-up. Above the form, he wrote 'Fill out this form and we'll contact you shortly' this is a little vague. At these kinds of moments, you need to be more specific. He could've changed that phrase with: 'Fill out the form and we'll contact you within 2 business days'.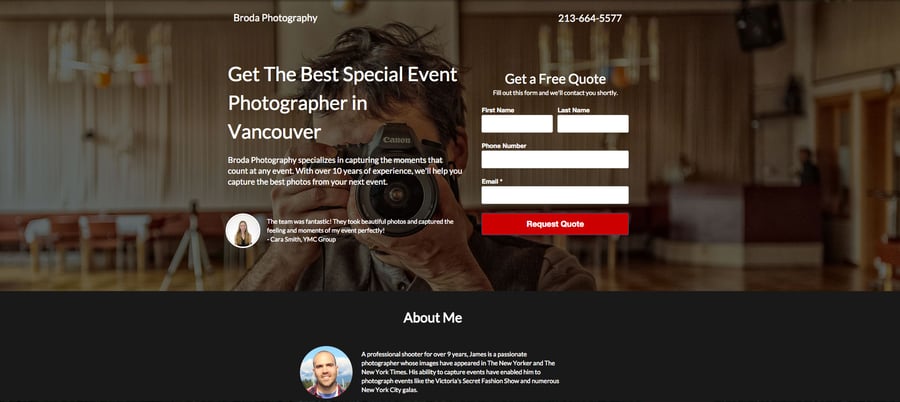 3. Microsoft
The next landing page is from the American multinational technology company, Microsoft. You can see that this landing page also includes bullet points, this will make reading all the information easier. The reader would stop reading the text earlier if it was just a block of text because it's too overwhelming for the reader. The benefits are also named in the title above the text, this way the reader immediately knows what he/she is up too. When you look at the form, you can see that Microsoft made use of placeholders. Placeholders are the light grey text that is located inside of the fields of the form. However, these placeholders could have been used more effectively. The best way to use placeholders is combined with labels, which will tell the reader what to fill out in the fields. Acquire convert says: 'Don't use placeholders as labels, they are meant to be used as hints or to display example input data'. If the labels are used, you can use the placeholders to fill in an example or a hint. For example: instead of having the placeholder
'First Name' the should have combined it with a label and change the placeholder to 'James'.
Another thing that could be improved would be the CTA (Call-to-action) which says 'Download Now' it should stand out more. It doesn't stand out because the picture at the top has the same colour as the CTA.
Thank you pages
4. Kickoff labs
This thank you page is from Kick off labs. As you can see there's something special with this thank you page, it will encourage visitors to share the offer in exchange for prizes. If someone can do something easy in exchange for something equally or more valuable, it is more likely they will do so. The company has also placed a button to share the offer in the social networks of the visitor and they added a link to make sharing easier. If they look at the line below they can track how many 'points' they have and what prizes they will receive. Lastly, the creators of this page have not forgotten for what the page serves, which is to thank the visitor for filling out the form.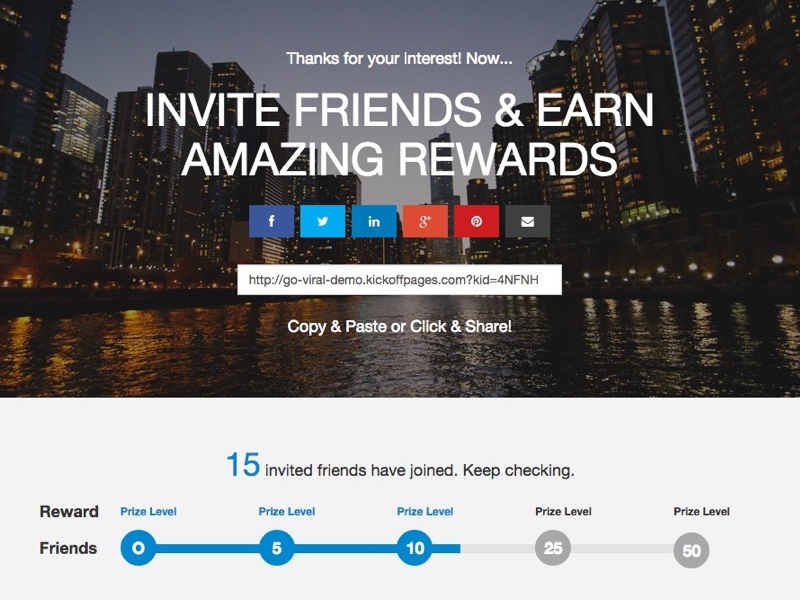 5. Unbounce
This is not the best-looking page I've seen, but I have to say that the content makes up for it. As you can see, the page starts with 'Hey you!'. I do not advise you to talk like this with your visitors, although in some cases that can be very effective. All of this depends on who your target group is. If your target group are teenagers, for example, this thank you page might be appropriate because they are imitating the way their target group communicates. The company also made the thank you page more personal by closing the letter with a friendly greeting of the vice president of the Marketing department. This makes it even more personal by adding a photo of that person.
6. HubSpot
The last example is from Hubspot. On your right below you can see a call to action. I will always advise you to put one, if not multiple on your thank you pages. In this thank you page the company also uses buttons to share the offer in the social networks of the visitor, as you can see adding sharing buttons is very important, since it comes back at almost every thank you page. Something impressive about this page is that they call the lead by their name. Several automation tools can do this. The company can do this because the visitor just gave his information, so he takes advantage of that opportunity, to make his thank you page more personal. Pay attention, because if you are going to add the visitor's name on the thank you page, the name field on the form should be required to fill out.

Hubspot decided to put the offer directly on the thank you page so that leads do not have to look it up in their emails. If the lead does not want to download the offer at the moment, Hubspot also sent them an email, so the lead can download it later. Once again, you can see the list of bullet points, so that the most important things stand out.
Hubspot also added a CTA button on the landing page. If someone clicks it, they will be redirected to another landing page. They have added the CTA to push the lead further through the funnel by presenting them a new offer, which in this case is marketing certification course.
I'm pleased to have have presented and informed you with these 6 landing and thank you page examples. I hope everything was clear. Do you have any other examples you would like to share with us? Please let us know by dropping a comment down below.