3 Surprising Marketing Trends in Latin America 2018
Written by
WX Digital Agency
2 minutes reading time
Both as a business owner and as a marketeer it is essential to keep up with the marketing trends in your region. If you fail to notice certain trends your company could fall behind and miss out on possibly great opportunities. To prevent your company from falling behind on the trends, I bring 3 Latin American marketing trends to your attention. If your company is not located in Latin America, don't click away just yet, some trends mentioned could also help your company.


1 - Use more videos!
A visual revolution has come to Latin America! The people want to see, not read. Hispanic marketers are using this to their advantage. 17% of marketers in Latin America say that visual and video content is their top priority. It is not strange that these marketeers prefer to use video content, as an astonishing 62% of Hispanic consumers say they prefer videos when asked what kind of content they like to see from a brand they support.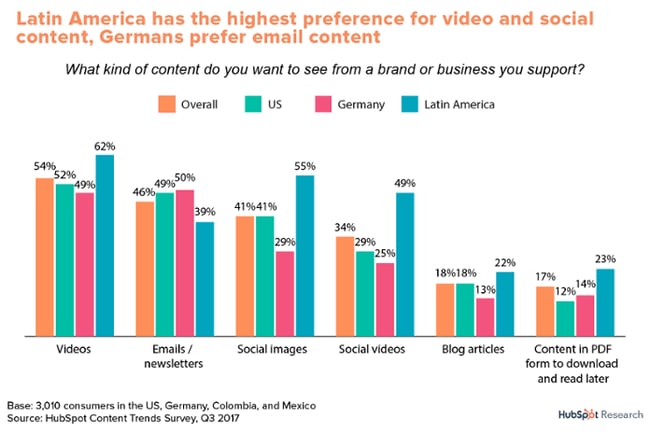 Branded video content is not only what the consumer wants to see it is also the content they are most likely to remember (As you can see in the graph below). If you are still not sure about using video in your marketing campaign, you have to know it is great for building trust, improves the social media engagement and relevant good quality videos on your landing pages will Improve your SEO.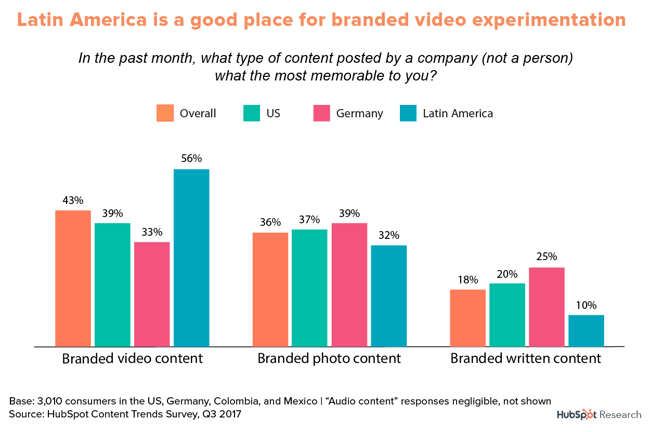 2 - Yes, you can use Whatsapp.
Do you think it is unprofessional and impractical to have contact with clients over Whatsapp? In that case you might be located in the US. If you are, Whatsapp might Indeed not be the ideal point of contact as only 11% of American consumers is willing to have contact with a company over Whatsapp. But if you are located in Latin America, you should reconsider! In Latin America 83% of consumer say they see Whatsapp as a good way to contact a company, and 73% say the same about Facebook messenger. As you can see Whatsapp could be a great medium for customer support, that especially small Latin American companies should consider. For bigger companies that get many customer request every day, Whatsapp might not be the most practical option.

Whatsapp is not only good for customer support, it also provides a fantastic opportunity for sales. As according to this article from profitbooks, leads are 40% more likely to respond to a follow-up on Whatsapp than they are on a phone call. Granted that you send a well thought about personalized message.


If you want to learn more about using Whatsapp for your business, you are in luck. We wrote a blog about it.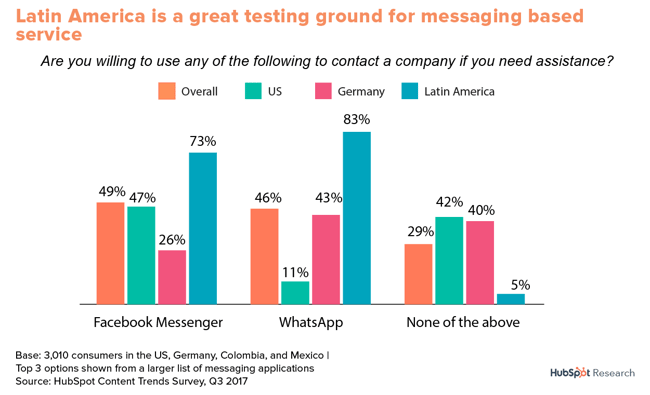 3 - The mobile revolution continues
I know what your thinking; "that is not surprising at all". You are right, it is nothing new, but the global share of mobile traffic is still growing, and Latin america seems to be ahead of this change as you can see in the graph.

We included the growth of smartphones in this article cause many small companies are not adapting to phones (enough). According to one research only 30% of small companies have a mobile-friendly website. This is crucial if you realise that 8 out of 10 customers stops engaging when content does not work well on their device.

75% of Latin American customers go to the website of a company if they want to get more information about a product or service. The Average smartphone conversion rates are 64% higher than desktop conversion rates. So if your website does not work seamlessly on a mobile device you are seriously missing out!
Congratulations you are now up to date to the newest marketing trends in Latin America!