20 Best HubSpot CRM Integrations to Supercharge Your Results
Written by
WX Digital Agency
7 minutes reading time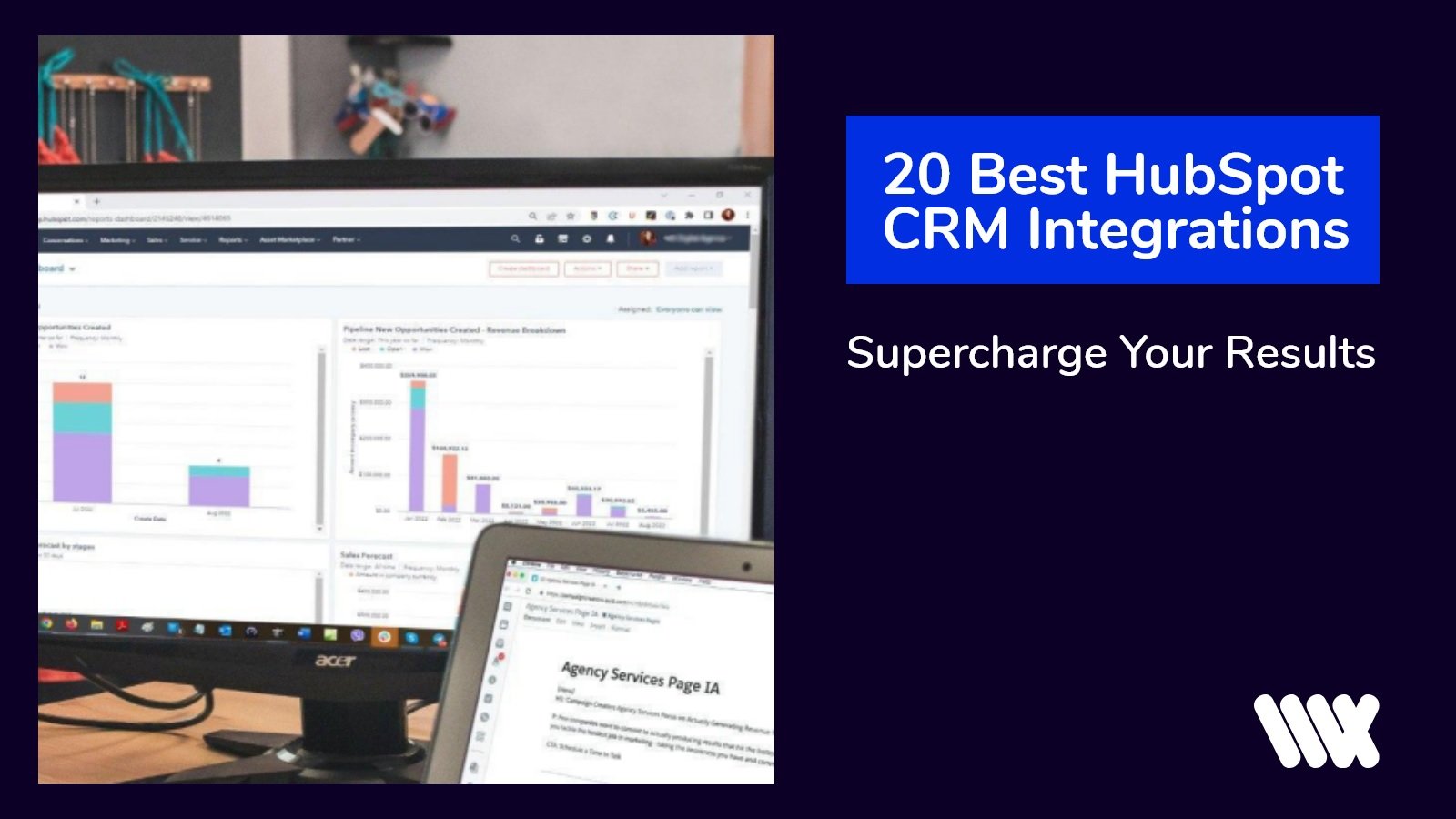 HubSpot is the #1 marketing platform that brings everything that companies—from startups to enterprises—need to provide the best experience to customers.
The foundation of HubSpot is the HubSpot Customer Relationship Management (CRM) suite, which lies at the heart of its many hubs and gathers data from the complete customer lifecycle in one spot.
While incredibly powerful on its own, you can supercharge HubSpot CRM's capabilities by connecting it with thousands of other tools. In this article, we provide an overview of 20 of the best integrations for HubSpot CRM.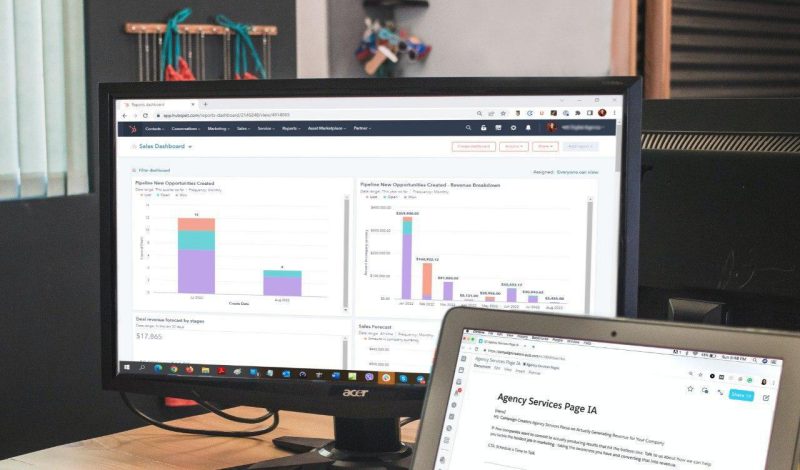 What is a HubSpot CRM Integration?
A HubSpot CRM Integration is a seamless connection between HubSpot and a third-party application. It generally means that setting up the link is very easy and won't cause any trouble—often you'll be up and running in just a few minutes.
Here is our list of the 20 best and most popular solutions that have native integrations available for HubSpot CRM:
SalesForce HubSpot Integration
SalesForce is a cloud-based CRM tool used by companies for their sales, support, and marketing needs. It helps businesses connect with partners, customers, and potential customers.
Based on HubSpot's 2022 Marketing Statistics analysis, both marketing and sales professionals consider the use of CRM—with its shared customer view between their teams—as very essential to a successful campaign.
Integrating SalesForce with HubSpot allows you to sync your marketing and sales databases and exchange information between these 2 platforms.
This maintains consistency between your sales and marketing teams and provides you with the most up-to-date leads and the latest opportunities—just what your business needs.
Gmail HubSpot Integration
HubSpot's Gmail integration enables you to connect your inbox to your HubSpot CRM. This way, all your emails with the customer are added to their contact record in HubSpot, which contains every interaction with that client.
Using HubSpot's tools directly from your inbox also allows you to access real-time email analytics, making things even more efficient.
Drift HubSpot Integration
As an advanced chatbot that pulls data from other tools, Drift manages your website visitors and allows you to have real-time conversations with them on your site. Using it can significantly increase lead conversion rates and improve your sales opportunities.
When you integrate Drift with HubSpot, activities on your website can be used when reaching out to your clients. Through these conversations with your prospects in Drift, you can make your emails and workflows more personalized and therefore, more effective.
Proposify HubSpot Integration
Proposify is a cloud-based proposal software. You can create, send, track, and e-sign proposals, agreements, and contracts efficiently through various tools, design elements, and templates. It streamlines the proposal process and automates tasks for sales and marketing teams.
Using this platform provides consistency to your brand's voice and style whenever you send out a proposal. You can also track the progress of your proposals and emails to get insights into who's viewing them.
When you link Proposify to HubSpot, you won't need to transfer from one platform to another each time your deal changes. The information and contact list in both these accounts will be updated automatically. This way, you not only avoid errors but make the process more efficient.
PandaDoc HubSpot Integration
PandaDoc is a document automation and management software that lets you create, manage, sign, and track digital documents like proposals, quotes, and contracts.
It has features like templates and default signatures that make the contract process much simpler. If integrated with PandaDoc, HubSpot can send and track PandaDoc documents and connect them to the customer contact record. This way, you'll have real-time analytics and be able to track whether your contacts viewed the document, and which part they spent more time on.
Overall, this helps you close more deals, faster.
Seventh Sense HubSpot Integration
Using Seventh Sense software helps you optimize your email marketing program.
You just have to pick a "window of time" when you want to deliver your emails, and it would schedule the most optimal time to send that email to the recipient based on their habits and patterns of use. Pretty unique, right?
Email is a very important part of a marketing campaign. In fact, email marketing is ranked as the second most effective medium for building brand awareness. And the delivery time of your email may decide the difference between a successful engagement and your email ending up in the trash.
In integrating Seventh Sense with HubSpot, you can drive great results with your nurture campaigns, making the job not only easier but way more effective.
Facebook Ads HubSpot Integration
According to statistics, 80% of companies use Facebook, and it's one of the most common social media platforms used by marketers.
When you link Facebook Ads to HubSpot, leads from Facebook will automatically sync over to HubSpot as a contact. You'd also be able to target your clients with highly relevant ads and create custom ad audiences from your CRM contacts.
Without logging into Facebook, you can see your total ad spend and CTR rates, and which campaigns are creating new deals and closed sales.
Survey Monkey HubSpot Integration
Survey Monkey has many features that greatly simplify the survey process.
Surveys are essential to companies since they provide insights and feedback from customers and prospective customers. Knowing these helps you address issues and tells you how to improve your performance and marketing decisions.
Through this integration, you can view survey responses directly in your HubSpot CRM and divide your contacts based on their responses. The results can direct your inbound strategy and let you which actions to take.
Gravity Forms HubSpot Integration
Forms not only gather data, but are a way to interact and connect with your customers.
Although it's primarily used to easily build forms through its drag-and-drop builder, Gravity Form is also used to create quizzes and surveys, collect data, and manage online payments.
Its integration with HubSpot can help you create and update the contact profiles of your customers, analyze and segment your contacts into groups, automate emails, and put your contacts into a nurturing campaign.
EventBrite HubSpot Integration
In marketing, using live events is one of the top strategies to promote your brand and stand out.
EventBrite is an event marketing platform, and you can use it to create a page for your event, register and track your attendees, and even sell tickets for your event. It has tools for promotion, registration, social media, and entry management.
When Eventbrite is integrated with HubSpot, you can gather new leads through HubSpot's tools and include them in your live events to further strengthen your relationship with your prospects. You can monitor which contacts are registering and attending the events to better understand how they engage with your brand, and later track the ROI of your activities.
TrenDemon HubSpot Integration
As a web personalization solution, using TrenDemon helps you understand your customers' journey, track visitors on your website, and then deliver personalized experiences and content to encourage them to take the next step. It also shows how your website content impacts the outcomes and your revenue.
Get the most out of your HubSpot data by creating personalized content experiences with TrenDemon, and convert visitors, not into prospects or leads, but straight into customers.
Unbounce HubSpot Integration
Unbounce is known for its flexible builder that's used to create effective, full-fledged landing pages quickly, without needing a developer.
Landing pages are essential to increase conversions, provide insights to your audience, and enhance your brand value.
When Unbounce is integrated with HubSpot, companies can create landing pages conveniently, with optimized elements that generate more leads for nurturing.
Bitly HubSpot Integration
Bitly is mainly known as a URL link shortener. Aside from allowing you to customize your links, it has many other features like tracking real-time click data and monitoring your site's top referrals, giving you an insight into the locations where most of your clicks are coming from.
Through the Bitly-HubSpot integration, it's easier to brand, optimize, and centralize your links and click data. Bitly data is added to the other data collected by HubSpot, and using HubSpot's excellent analytics and reporting tools, makes it easier to visualize the complete picture.
HotJar HubSpot Integration
HotJar records user interactions on your website through the use of heat maps, recordings, and surveys. With this tool, you can see which part of your page gets the most interactions with visitors—letting you see how far your users scrolled and where they stopped.
Integrating this tool with HubSpot gives a deeper insight into the behavior and feedback of your customers and adds information gathered from HotJar into the contact records on HubSpot.
DataBox HubSpot Integration
Databox is a tool that gathers data and analytics from different platforms—Google Analytics, Semrush, and other analytics tools—and pulls it all together to create beautiful, clear visualizations.
By connecting DataBox to HubSpot, you can easily build stunning dashboards and reports that give you a complete overview of everything that's happening with your business and customers.
Wistia HubSpot Integration
Wistia is a video marketing platform for businesses.. With built-in analytics and inbound marketing tools, you can customize your video content based on your needs, and even do A/B testing on it.
When you integrate Wistia with HubSpot, you can directly include your calls-to-action from HubSpot into your video players. Also, the viewing data of your visitors is automatically added to their contact records in your CRM when they submit forms.
CallRail HubSpot Integration
CallRail can track and manage your phone leads, understand their intent, and view the details of their source. These features are considered game changers in lead generation tracking.
With CallRail, you can capture phone call data and add it to HubSpot through integration, and match phone numbers from your HubSpot contact database. It's one of HubSpot's top integrations for telephony where you can maximize engagement and lead capture.
Sage Accounting HubSpot Integration
As a powerful accounting analysis software, Sage Accounting is one of the top cloud applications used to process financial information. Providing real-time financial details, it rules out human error and keeps things simple and less time-consuming.
Integrating Sage Accounting to HubSpot lets you set up rules and helps you keep track of customers from a financial perspective.
SnapEngage HubSpot Integration
SnapEngage is a leading chat solution that's highly customizable and easy to use. It's a great tool for connecting with your website visitors and engaging with your leads wherever they may be.
When integrated with HubSpot, leads and contact data collected from your live chat becomes available in the CRM database, and you can utilize HubSpot's workflows and list segmentation to nurture your chat contacts.
Beacon HubSpot Integration
Beacon is a tool that lets you easily convert HubSpot blogs into lead magnets, typically eBooks, without the need for a designer.
In today's competitive online environment, it's a constant struggle to scale up your content production efforts and diversify your offering. This integration makes it easy to repurpose and upcycle your HubSpot blogs into a variety of lead magnets that help you capture more leads.
Conclusion
HubSpot CRM is a complete and powerful tool in itself. But one of the things that make the HubSpot ecosystem so appealing and beneficial to businesses is the vast number of integrations that are available. A few simple clicks are all it takes to supercharge your HubSpot portal and expand its powers.
In this article, we introduced 20 of the most popular applications that can be integrated with HubSpot, but there are thousands more available. Reach out to us and WX can help you select and set up the exact integrations you need to help you achieve your goals.